Flat Packed Container House Design, Sandwich Panel Container Cabin
Technical Parameter:



Size: GP20, GP40 and HP40 of shipping container

Wind Resistance: Grade 12

Wall permitted loading: 0.6KN/ m2

Ceiling Permitted live loading: 0.5 KN/m2

Wall Coefficient of thermal conductivity: K=0.442W/mk

Ceiling Coefficient of thermal conductivity: K=0.55W/ m2K

You are so welcome to send us inquiries!



Clients visit: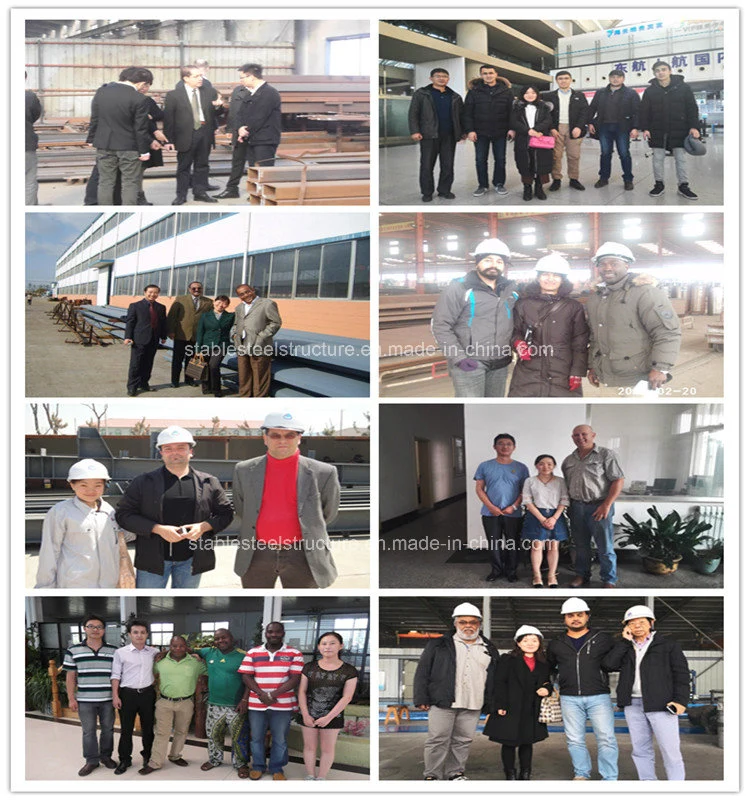 Characters:

1) Good ability to assemble and disassemble for several times without damage.

2) Could be lifted, fixed and combined freely.

3) Heatproof and waterproof.

4) Cost saving and convenient transportation (Each 4 container house can loaded in one standard container)

5) Service life can reach up to 15 - 20 years

6) We can provide the service of installation, supervision and training by extra.
Dimensions and Weight
Inner length /external length :5.81m/6.06m
Inner width /external width: 2.188m/2.438m
Inner height/external height:2,410m/2.591m
Weight: 2000kg per unit
Steel framework
Material: steel material Q234, thickness: 3.5mm,for top beam frame. Base beam frame and column.
Surface working: epoxy painting,two bottom and two surface.
Fittings: 8 standard container corner mould fittings PVC standard rainwater pipe
Forklift openings: size 100*250mm, distance is 1200mm
Floor
External wainscot: Flat galvanized color steel sheet, 0.5mm thickness
Floor structure: Girder made of 3.5mm steel. The purlin is C section steel. dimension 60x40x1.5mm.
Warm proof Insulation layer: 75mm rock wool
18mm bamboo plywood
2.0mm PVC floor leather for living rooms floor;
Ceiling
Construction:
Roof exterior layer: 1.2mm steel plate with epoxy painting
Warm proof insulation filling: 75mm rockwool between C section purlins;
Inner wainscot: 8mm OSB board with 12mm PVC decoration board.
Roof water drain: 4 PVC rainwater pipes in the corner pillars, diameter 50mm
Walls
Panel width: 1150mm; panel total thickness: 75mm, five panels fit into the long side and two panels fit into the short side.
Construction:
Common room wall: 75mm rockwool 0.4/0.4mm Galvanized
steel on both side , Desity of Rockwool: 120Kg/m3
Galvanize window opening on the wall if needed.
Door
External door: Insulated with opening dimension 950*2100mm, furnished with lock
with 3keys. Inner door: Insulated steel door.
Windows
Window material: PVC window with fly screen. Double glass, 4mm glass.
Electrical fittings option
Electrical wire, 2.5mm2 for lighting system, and 4mm2 for AC units.
Main outlet and input industrial socket with 32A.
3 pcs 16A five hole universal socket.
2 pc double tube fluorescent lamp, 220V,50-60HZ
1 pc Single Switch, Honyar brand, with junction box
1 pc Electrical distribution box, box+breakers+earth leakage protective device
Optional Water system fittings
Water drain pipe, PPR pipe, dim 16-20mm, connection fittings are made of copper, life span over 10 years.
Exhaust fan or air exchange hole, size 250mm*250mm made of steel or PVC
Sanitary ware:
Western Close tool: ceramic, with pipes and installation fittings
Urinal: ceramic, with pipes and installation fittings
Wash basin: ceramic, with post, faucet, pipes and installation fittings
Shower head, Shower base, Water mixture


Why Choose Us:
1) Steel structure column,beams will be marked number on it to help you install.

And installation drawings will be offered.

2) We will send you extra bolts,purlins,panels incase of any damage when install.

3)One stop service
4)Will reply your inquiry within one hour.

5)We are concentrate on quanlity so our products are with nice quality.

6) We will offer details packing list when load so could help you unload.

7)We could offer you foundation design for free.


8)We have a group of professional engineers, most of whom has more than 10 years' experiences in architecture field.We could offer you construction drawing,calculation sheet to help you get construction permittion. We could make 3D drawings for you.


9) We could offer you Form A, Form E,CO,etc to reduce your import tax.

10) Established for more than ten years, our company has got a various of experiences in design, manufacture, installation and so on. The work staffs have excellent skills. Some of them had helped customers to install the warehouse around the world.



11) We also have possessed more than 80 sets of large precise and domestically advanced processing equipments, including large gantry planning machines, automatic submerged arc welding machines, assembling machines, slitters, shot blasting machines and so on.



12). Besides manufacture according to customers' requirements, we also established a set of production standards. With perfect technique, excellent quality, reasonable price, top-grade services, we have won the favor of lots of customers at home and abroad.